Diverse career paths – let the alumni tell you about the value of our program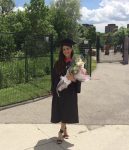 Present Job Title: Schulich Master of Management Candidate
Degree Earned: Professional Certificate in Public Policy Analysis
Year Graduated: 2017
Tell prospective students a bit about the work you do?
I am currently a student in the Schulich Master of Management Program and sit on the City of Caledon's Board of Health Services and Quality Assurance. I am inspired by the health sector and the capacity the public service holds and strive to be employed in a field which helps people on a daily basis and strengthens our nation.
Tell prospective students a bit about how your studies at York helped you to get where you are today.
I completed an Undergrad Degree in Health Studies at York University as well as the Professional Certificate in Public Policy Analysis offered by SPPA. My experience at York University has been cultivating; especially in my final year, when I decided to complete my Certificate in Public Policy Analysis. This certificate allowed me to harness key analytic competencies and program evaluation skills while delving into national issues through a policy perspective. This allowed me to see the scope of work I am interested in and encouraged me to further my studies. This certificate exposed me to experiential education and led to me becoming an intern for the City of Vaughan's Emergency Manager; showing me how policy is applied and the skills needed to manage a program.
The PPAS courses and the Certificate in Public Policy Analysis provided me with networks and a collaborative learning environment which allowed for self-realization. The program creates an inclusive environment which gives you the feeling that you are more than just a student number but a part of a faculty team that is passionate about your learning journey. This program gives students an influential voice within the public sector, challenges thinking and provides perspective to become future catalysts of change. I believe that no one becomes great on their own, but it is people who raise us up, push our standards, remind of us of our purpose and bring out our magnitude. I thank all my supportive professors and driven classmates for this wonderful experience.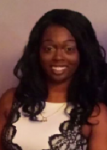 Present Employer: Government of Canada
Degree Earned: Professional Certificate in Public Policy Analysis
Year Graduated: 2014
Tell prospective students a bit about the work you do?
Being both a Doctoral Student and Junior Policy Analyst, I engage in a variety of activities on a daily basis. As a doctoral student, I write, read and research both theoretical and subject-relevant documents. As a Junior Policy Analyst with the Government of Canada, I am involved in a dynamic environment, wherein I am responsible to research, analyse and create documents for use by senior staff. I have created databases that are used to ease the media scans required to monitor developments. I have produced and edited memorandums, briefing notes, profiles and meeting minutes; I have also compiled data used as support for decision making. I participate in multiple meeting concerning the teams' work, work distribution and logistics for upcoming deadlines.
Tell prospective students a bit about how your studies at York helped you to get where you are today.
My studies at York University have augmented my career in a plethora of ways. The Professional Certificate in Public Policy Analysis was a stepping stone to pursuing the Master of Public Policy, Administration and Law (MPPAL) program with the School of Public Policy and Administration (SPPA). Within the MPPAL program, I was exposed to the machinery of government, administration, schools of policy, program evaluation, research methods, drafting professional documents that adhere to guidelines. I had the opportunity to engage to conduct evaluation, draft reports (not limited to briefing reports), memos, case studies and papers. I have had several opportunities to engage in how to conduct reliable research and had many opportunities to write papers, and subsequently attend both national and international conferences. Unique to MPPAL, students become dually well versed in creating both professional and academic documents. While undertaking MPPAL and working, I constantly had to strategize how to work efficiently. As a result, I am able to work under strict timelines, with highly sensitive data and construct quality work. The intellectual and professional challenge of pursuing a graduate degree, whilst working and volunteering has reiterated the importance of balance and refining goals. MPPAL provided the required skill sets needed to be a competitive applicant for employment and reaffirmed my pursuit of further studies in the field of public administration. My experience at York has been multifaceted and has prepared me to continue developing my professional goals.