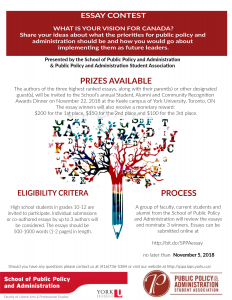 High School Essay Contest 2018

What is your vision for Canada?
We would like to hear your ideas about what the priorities for public policy and administration should be, and how you would go about implementing them as future leaders.
The School of Public Policy and Administration of York University, Toronto, and its undergraduate student association invite high school students to submit essays that reflect on Canada's 150 year history and the issues that the society, communities and government face now and looking into the future.
ELIGIBILITY CRITERIA
High school students in grades 10-12 are invited to participate. Individual submissions or co-authored essays by up to 3 authors will be considered. The essays should be 500-1000 words (1-2 pages) in length.
PROCESS
A group of faculty, current students and alumni from the School of Public Policy and Administration will review the essays and nominate 3 winners. Essays can be submitted online at http://bit.do/SPPAessay  no later than November 5, 2018.
PRIZES AVAILABLE
The authors of the three highest ranked essays, along with their parent(s) or other designated guest(s), will be invited to the School's annual Student, Alumni, and   Community Recognition Awards Dinner on November 22, 2018 at the Keele campus of York University, Toronto, ON. The essay winners will also receive a monetary reward: $200 for the 1st place, $150 for the 2nd place and $100 for the 3rd place.
Please help circulate this contest widely to high school students and teachers
#EssayContest #Canada150 #LeadersInTheMaking